Sammelband: Die Europawahl 2019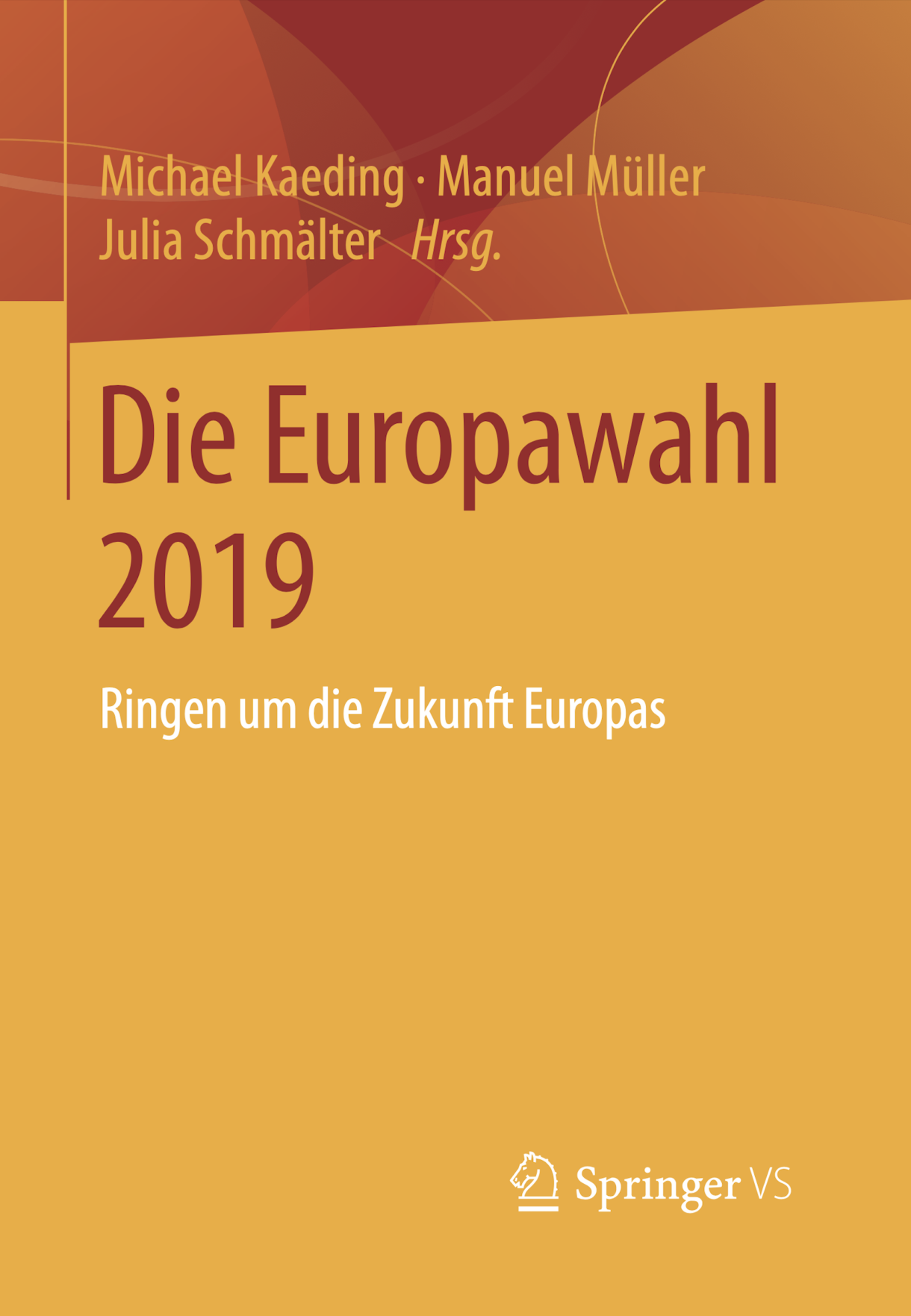 Heads up: "Die Europawahl 2019: Ringen um die Zukunft Europas" wurde dem Verlag die Freigabe des Covers erteilt. 55 Autor*innen und 33 spannende Kapitel! ​
Erscheinungsdatum: Mai 2020
Eine erstmals steigende Wahlbeteiligung, eine deutliche Veränderung der Mehrheitsverhältnisse und großer Streit um das Spitzenkandidaten-Verfahren: Die Europawahl 2019 war bewegt wie wenige zuvor. Dieses Buch bietet eine Analyse ihrer zahlreichen Facetten. Schwerpunkte liegen hierbei auf den europäischen Parteien und den Veränderungen in der Parteienlandschaft, der Rolle der Spitzenkandidaten, der öffentlichen Auseinandersetzung, der Wahlbeteiligung und dem Wahlverhalten sowie einem Ausblick auf das neue Parlament. Über Analysen der Europaforschung hinaus sind Perspektiven aus unterschiedlichen Subdisziplinen der (vergleichenden) Politikwissenschaft wie der Wahl-, Parteien-, Kommunikations- oder Regierungsforschung vertreten.
Das Buch finden Sie hier.
Gabriele Abels - Universität Tübingen
Steffen Hurka & Constantin Kaplaner - LMU
Vittoria Meißner - Institut für Europäische Politik
Gregor Christiansmeyer & Ricardo Kaufer (GAUG)
Stefan Wallaschek - University of Hildesheim
Eva Heidbreder & Daniel Schade (OVGU)
Michael Schwartz - European Parliament
Niko Switek & Kristina Weissenbach - UW & UDE
Patrick Clasen - European Parliament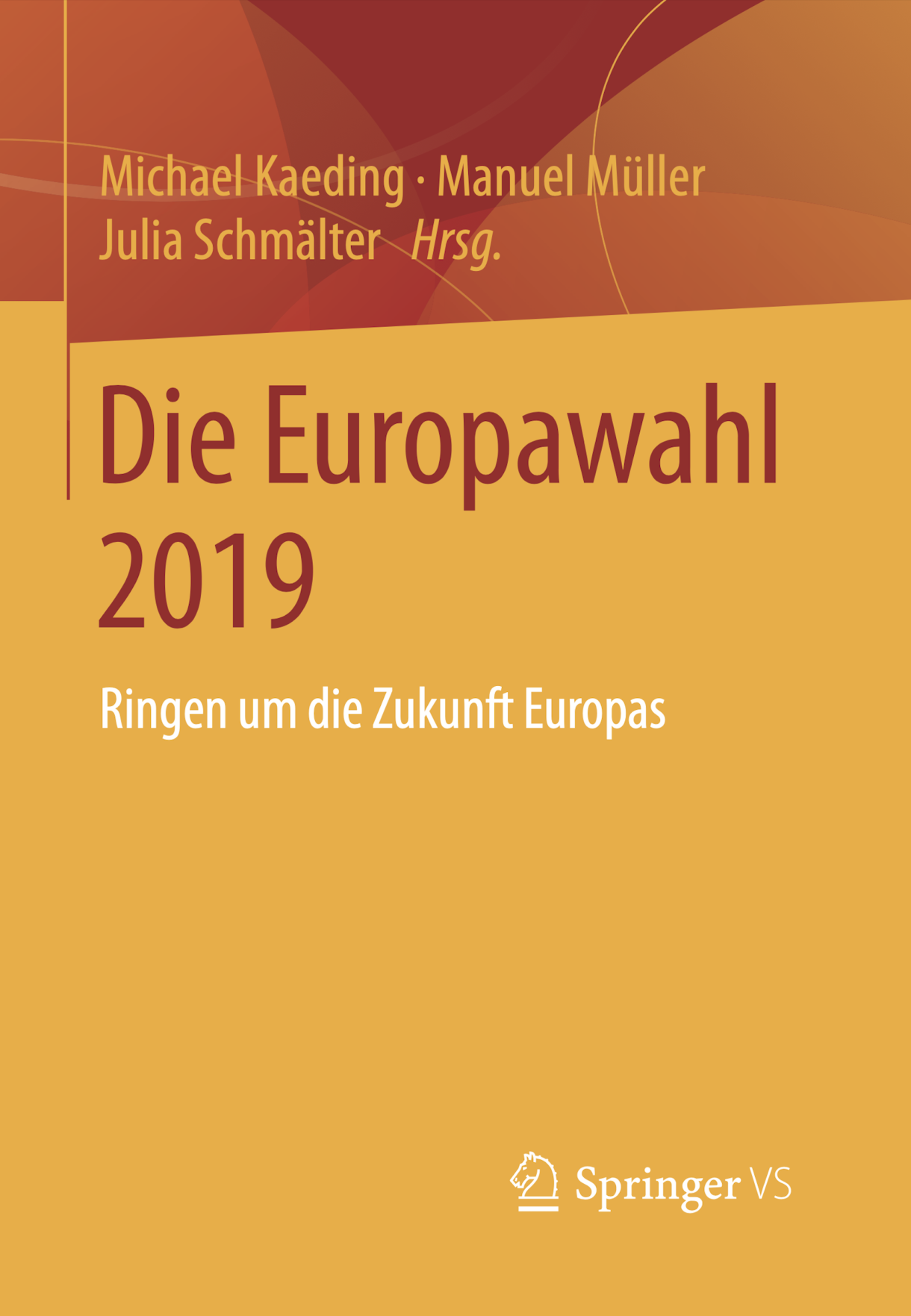 Appendix zum Sammelbandbeitrag: Clicking and Voting: Agendas of Voting Advice Applications (VAA) for the European Elections 2019
As outlined before, we decided to limit our database to the maximum of one VAA per EU-member state (exception: Belgium two editions of the same VAA because different parties candidate in Flanders and Wallonia). The Appendix should enable us to see which VAA was the basis for our calculations; if identified we added also information on other VAA editions for the EP elections 2019. Furthermore, we added a short information about the originators of the VAAs because they might already explain some of the variation we observed. This information is based on the self-descriptions of the VAAs/organisations.
It is interesting to observe that three more or less big networks are to be identified: the VoteMatch-Network (initiated by ProDemos, NL and bpb, DE), a group around the Preference Matcher consortium and a third one connected to the team of kieskompas. Not all surveyed VAAs are attributable to one of these networks, but within the networks similarities in structure and theses are to be observed.
Autoren:
Gregor Christiansmeyer | Göttingen, Germany | e-mail: christiansmeyer@posteo.eu
Ricarda Kaufer | Bielefeld, Germany | e-mail: ricardo.kaufer@uni-goettingen.de
Den Sammelbandbeitrag finden Sie hier. 
Den kompletten Appendix finden Sie hier.
Autorenkonferenz zum Europawahlsammelband 2019
Programm der Autorenkonferenz
Am 23. und 24. September 2019 findet in den Räumlichkeiten des Instituts für Politikwissenschaft die Autorenkonferenz zum Europawahlsammelband 2019 statt. Das Programm und weitere Informationen zur Autorenkonferenz finden Sie hier.
Die Autorenkonferenz fand am 23.-24. September 2019 zum Europawahlsammelband 2019 statt. Hier trafen 38 begeisterte und enthusiastische Europawissenschaftler aus Deutschland und europäischen Nachbarländern (Niederlande, Belgien) zusammen, um einzelne Beiträge in dem 2020 erscheinenden Sammelband zu begutachten.
Alles in allem konnte an den zwei Tagen maßgeblich an den einzelnen Beiträgen gearbeitet werden. Anhand der differenzierten Feedbacks, die die einzelnen Wissenschaftler erhielten, bot ihnen dies die Gelegenheit bis Ende November die wissenschaftlichen Texte zu überarbeiten, sodass das Resultat einer erfolgreichen Zusammenarbeit zu Beginn des nächsten Jahres endlich in den Händen zu halten ist.
Weitere Informationen zur Autorenkonferenz finden Sie hier.
Abschlussbericht der Autorenkonferenz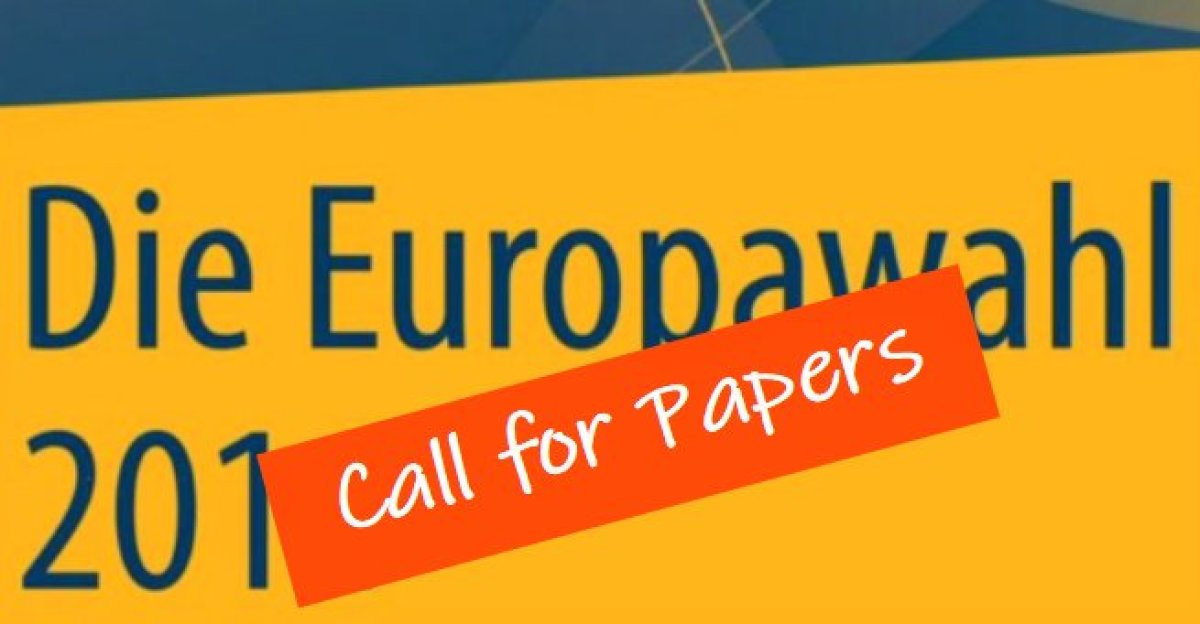 Call for Papers: Die Europawahl 2019
Nach dem erfolgreichen Sammelband zur Europawahl 2014 wird Prof. Dr. Michael Kaeding zusammen mit "dem (europäischen) Föderalisten", Manuel Müller, und Dr. Julia Schmälter auch den Sammelband zur Europawahl 2019 herausgeben.
Welche Neuerungen wird die Europawahl 2019 mitsichbringen? Wie konnten die Spitzenkandidaten - unter ihnen ein Deutscher - die Wahl und den Wahlkampf prägen? Was werden die Gewinne der Protestparteien beudeuten und kommt es tatsächlich zu einem (gesamteuropäischen) Anstieg der Wahlbeteiligung? Die Beiträge in diesem Sammelband werden diese und weitere zentrale Aspekte der Europawahl 2019 disutieren. Im Besonderen stehen Parteien und Parteiensysteme, der Wahlkampf und die (europäische) Öffentlichkeit sowie der Spitzenkandidatenprozess und die Zukunft der EU im Zentrum des Sammelbandes.